Monday, 26 March 2012 12:32

Retail executives and analysts are debating the future and overall benefits of Facebook storefronts. A recent article from Bloomberg revealed that merchants including GameStop, JCPenney and Nordstrom have closed their social commerce initiatives after experiencing poor sales results. However, new research from Payvment, an e-Commerce and discovery solution provider for Facebook, indicates that the social networking site can be a beneficial channel for retailers by increasing traffic, ad display and even purchase rates.
The majority of respondents (61%) to Payvment's study, "The F-Commerce Facts," agreed that a top benefit of utilizing Facebook was the ability to promote products via social marketing. Sixty percent of merchants cited the convenience to customers of buying products via the social networking site as a main perk.
The survey is based on a random sample of Payvment's seller base of more than 100,000 business owners. Responses were gathered online from Feb. 15 to Feb. 28, 2012. In total, there were 750 seller responses from 12 different countries. Nearly 50% of respondents have been selling on Facebook for less than three months.
Overall, 37% of all retailers sell goods solely on Facebook, according to the survey. Ease of use was a top benefit for retailers that utilize Facebook storefronts. Half of respondents noted that Facebook storefronts were easy to set up and maintain, while 40% gravitated to the site because they were already familiar with its platform and features.
"While a handful of large retailers have put their Facebook commerce efforts on hold, there are hundreds of thousands of small businesses who are successful at selling products on Facebook," said Christian Taylor, Founder and CEO of Payvment. "This study provides a snapshot of the current state of Facebook commerce, showing a robust and vibrant environment in which sellers are marketing their products aggressively through many different channels, driving sales and bringing revenue and traffic back to Facebook."
Full Infographic
---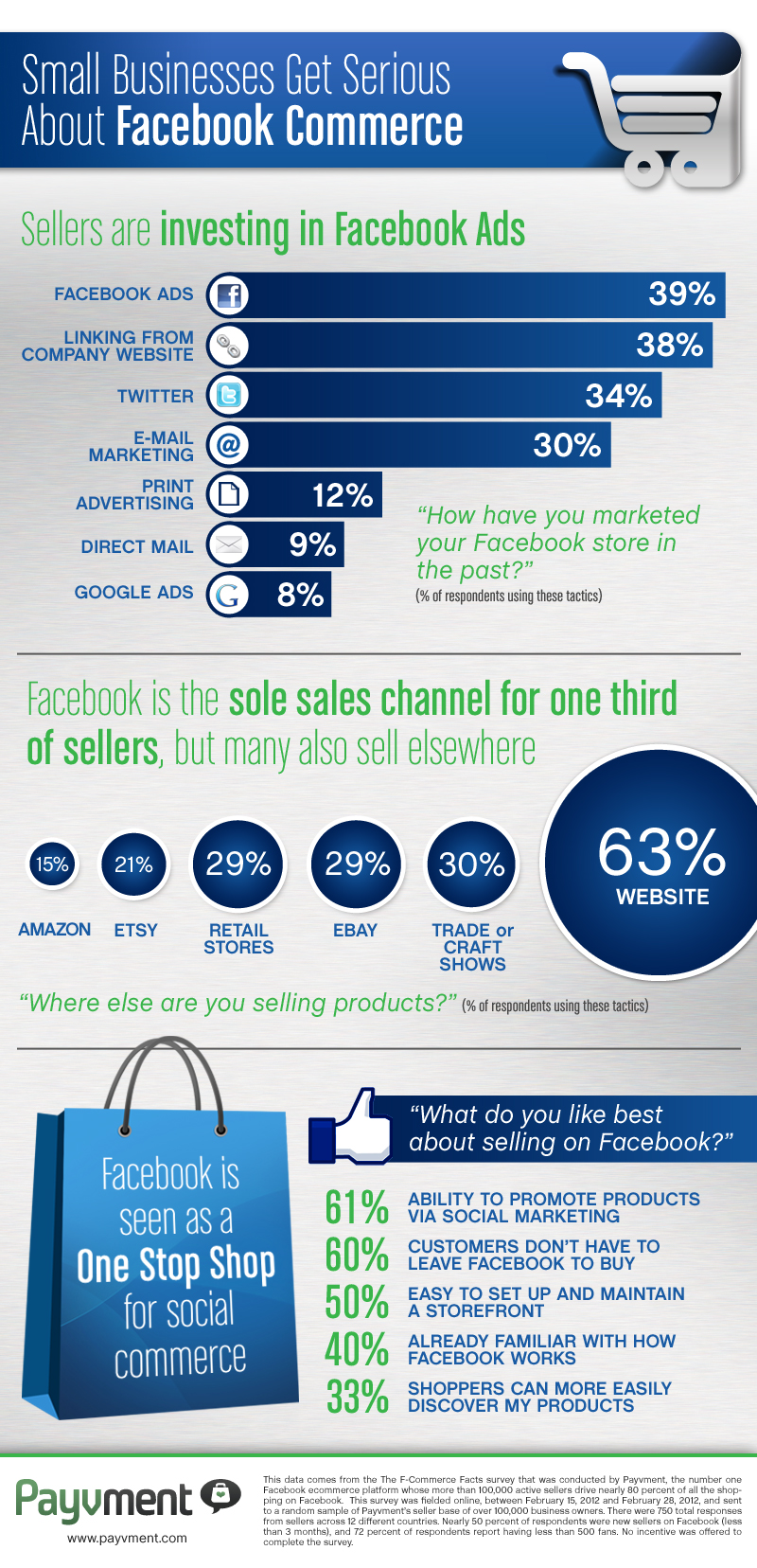 Source: Payvment
blog comments powered by

Disqus