Retail DataPoints Of The Week
Tuesday, 03 December 2013 12:46

As consumers increase online shopping, shipping options have become a vital part of the overall brand experience. Approximately three quarters (73%) of U.S. shoppers completed a purchase in the past year that required shipping. The majority (77%) of shoppers said they prefer free shipping to fast shipping options (19%), and 49% of consumers said they actually abandoned a purchase due to high shipping costs.
This infographic, courtesy of Pitney Bowes, delves into shoppers' perspectives on shipping, and how retailers can leverage it as a cornerstone of the customer experience.
View full infographic »
Monday, 25 November 2013 17:02

The total number of U.S. tablet users is expected to grow at a compound annual growth rate of 51% from 2010 to 2015, according to Forrester Research. Retailers are benefitting from this boom, as consumers are using their devices more frequently during the browsing and buying process. For example, shoppers are using their tablets at least once a month to look up product and price information (56%), read customer ratings and reviews (54%), compare product and pricing information (51%), and search for a nearby store (51%).
This infographic, courtesy of Monetate, spotlights key tablet shopping behaviors, as well as a series of best practices to help retailers turn tablet browsers into loyal buyers.
View full infographic »
Tuesday, 19 November 2013 09:18

To succeed during the highly competitive holiday season, communication and collaboration between retailers and suppliers must occur on an ongoing basis. With access to first-hand knowledge of in-store activities, both parties can work together and discover new ways to improve in-store marketing campaigns, promotions, assortment and overall customer experiences.
This infographic, courtesy of Gigwalk, spotlights five steps to guarantee effective retailer-manufacturer collaboration during the holidays.
View full infographic »
Tuesday, 12 November 2013 10:38

Pricing can be the one of the most complicated aspects of the retail industry, depending on the competition, supply and demand of a specific product. Constant price fluctuation, coupled with the rise of showrooming and price-comparison strategies, can make it difficult for retailers to predict how a product will sell even a few months into the future.
This infographic, courtesy of 360pi, dives into the history of pricing, starting in 1200 BC, which was the first year currency and prices were recorded.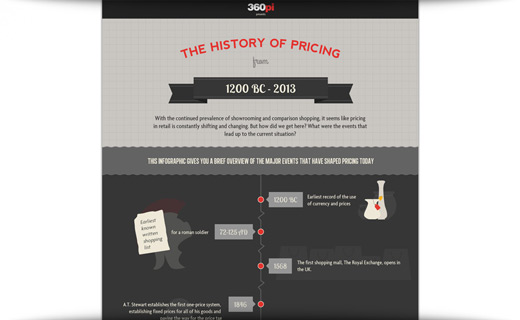 View full infographic »
Tuesday, 05 November 2013 13:28

In order to identify the most loyal customers, retailers can calculate customer lifetime value (CLV), or the overall profit a business makes from a specific shopper. In doing so, retailers can understand which consumers truly drive sales, and then tailor marketing, product development and customer service strategies to align with their preferences. This infographic, courtesy of RJMetrics, provides a calculator that helps merchants estimate their average CLV.
View the interactive infographic here: http://customerlifetimevalue.co
Monday, 28 October 2013 17:59

As the holiday season fast approaches, consumers are getting a jumpstart on their shopping. As many as 61% of consumers said they plan to start shopping earlier this year to spread out their budget more efficiently, according to new research from PriceGrabber.com. Approximately one third (32%) of consumers said they started their holiday shopping in October, while another 30% will start in November. Although the economy is improving, consumers still are focused on increasing their savings. In fact, 21% of consumers said they were saving money for the holidays before June. This infographic, courtesy of PriceGrabber.com, includes additional findings from the first installment of the 2013 Winter Holiday Shopping Survey.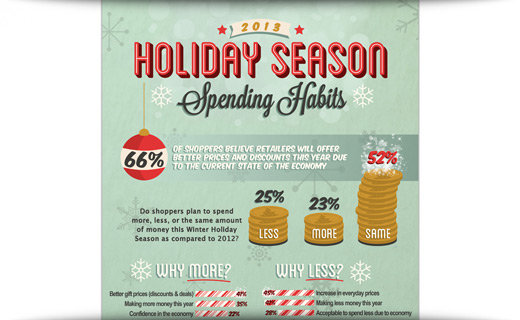 View full infographic »
Tuesday, 22 October 2013 11:00

The top 5 Internet retailers such as Amazon, Apple, Staples and Walmart dominate the e-Commerce spectrum, combining to earn almost $88 billion in web sales in 2012. However, these heavy hitters aren't the only companies finding success in what is still proving to be an unsaturated market. Many other retailers are carving out unique business models, enabling them to earn millions in sales revenue and compete effectively with the leaders.
This infographic, courtesy of Baynote, illustrates the companies that are taking advantage of the opportunities presented by the online experience, as well as how these businesses are strategizing to stay ahead of their competitors.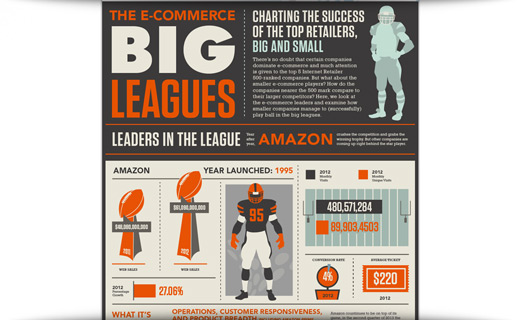 View full infographic »
Tuesday, 15 October 2013 08:09

Consumers' online behaviors vary depending on their geographic locations. Only 32% of consumers in France spend more than 30 minutes a day on social networks, as opposed to 63% of consumers in India. Technology preferences also vary on a country-by-country basis. For example, Germans like to browse on their smartphones, while Brazilians prefer to use their tablets.
This infographic, courtesy of Netbiscuits, highlights key findings from the survey, titled: The People's Web Report.
Read more...
Tuesday, 08 October 2013 11:56

Today, consumers who believe they have captured a great shopping deal are more willing to spread the word with those who are close to them — especially tech-savvy Millennials. In fact, the percentage of Millennials who tell family members and friends about must-have deals is now as high as 90%! This infographic, courtesy of Valassis, shares insights around how Millennials share deals with peers across channels.
View full infographic »
Monday, 30 September 2013 21:42

An "affluencer" is defined as a retailer's "most important customer who is most likely to spend money on a product," according to iProspect. Approximately two thirds (62%) of these consumers earn more than $100,000 per year in household income, have obtained at least a bachelor's degree, and are married and have children. This infographic, courtesy of iProspect, shares insights around the preferences of three generations of affluencers: Millennials, Gen Xers and Baby Boomers.
View full infographic »
Monday, 23 September 2013 16:18

As the smartphone becomes consumers' preferred shopping tool, more retailers are recognizing the value of digital coupons, which can be stored and accessed directly on personal mobile devices. In fact, 64% of retailers either accept digital coupons today or plan to in the future, according to a new survey from Zavers by Google and Retail TouchPoints. Among retailers currently offering digital coupons, 74% are using mobile apps, SMS text messaging, web sites and/or email to deliver the offers. This infographic spotlights these and other key findings from the Next-Gen Retail Couponing survey.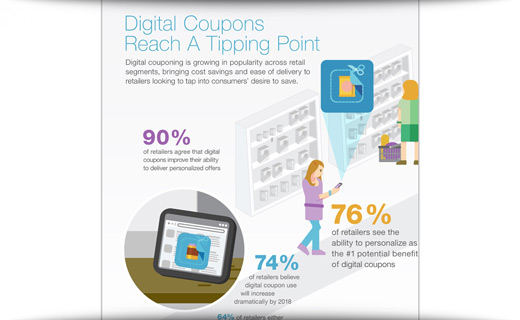 View full infographic »
<<

Start

<

Prev

1

2 3 4 5 6 7 8 9 10 Next > End >>